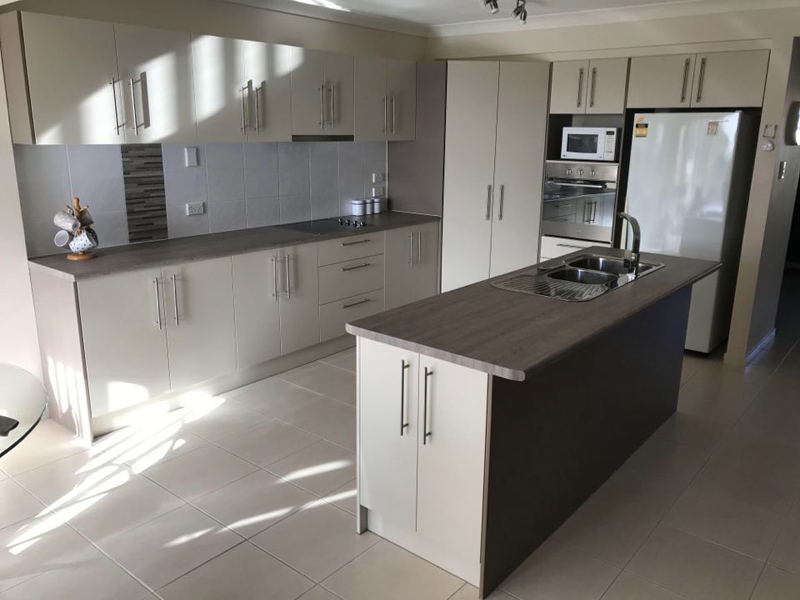 Get Beautiful Kitchens from a Range of Bathroom Remodeling Ideas
We have excellent kitchen renovation designs to create beautiful kitchens for Pacific Pines residences. As kitchen is a hub of any home and requires attention to detail to design stylish and luxury kitchens, we ensure that our kitchen renovation designs increases storage area and promote the proper organization of ingredients for easy access. If you are looking to facelift kitchens either through kitchen resurfacing or kitchen renovation, we have an experienced team to provide designs of your choice.
From sourcing high-quality materials and products to installing countertops and fixtures, we have a wide range of collections to suit kitchens of all sizes. We listen to the needs of our Pacific Pines clients and develop a plan for kitchen designs that fits your budget. From removal of the old kitchen, installing new countertops, splashbacks, rangehood, to new custom cabinet making, our kitchen renovation specialists provide a complete overhaul for your kitchens. We also take care of plumbing and electrical needs.
Custom Kitchen Design Exclusively for Pacific Pines Residences
For any kind of built-in storage, shelving, or custom cabinets, we have the proficiency to create stunning cabinets for every wall and corner. We ensure that kitchens are functional and captivating. We take pride in our excellent workmanship skills to provide custom kitchen design that you envisage. From replacing existing old cabinets, shelves, doors, panels, to installing new stone, wood, or laminated benchtops, we wide-ranging renovation ideas to provide personalized kitchens. We make certain to use modern kitchen fixtures that improve the visual appearance of your kitchens.
If you are looking for luxury kitchen renovation experts in Pacific Pines, we have the experience and expertise to transform ordinary kitchens into luxury kitchens that are a perfect blend of classic and contemporary. No matter if you are renovating an entire kitchen or part of your kitchen, we guide you to choose the colors, themes, and designs that inspire you.
Kitchen Resurfacing at Cost-effective Prices
Need kitchen resurfacing for your Pacific Pines kitchen? Gold Coast Budget Renovation specializes in kitchen resurfacing. Our experts give the kitchens the all-new look. We laminate with new materials or spray with a coat of enamel to give a vibrant look.
Whether you need kitchen renovation, kitchen resurfacing, or cabinet making services, we offer affordable solutions and a hassle-free journey from beginning to end. Call our Pacific Pines experts to get a free quote.