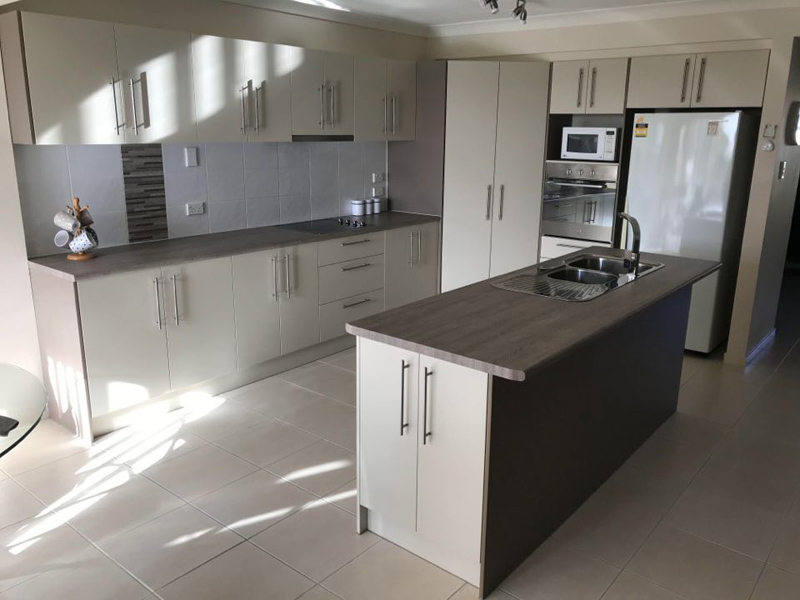 Premier Kitchen Renovation Specialists Gold Coast
Kitchen is the heart of the home and they need to be convenient and accessible with appropriate storage solutions. If you are planning to get rid of overcrowded kitchens, Gold Coast Budget Renovations provide beautiful kitchen renovations for the avid cook. We specialize in cabinet making and new kitchen installations. Every piece is custom-built to specifically suit your space, choice, and lifestyle.
With an array of kitchen designs like U shape, I shape, island, white, luxury, wood, contemporary, rustic, modular, and many more, we help you choose the right design based on the kitchen layout. Discover inspiring designs that help you to either upgrade or remodel the entire or part of the kitchen.
Our professionals work with you to understand your needs and coordinate every phase from hiring plumber, electricians, cabinet makers, to painter and canopy installation. Kitchen designing and renovation can be a daunting task, but, Gold Coast Budget Renovations has 20 years of experience in the Gold Coast to make the process seamless.
Custom Kitchen Designs Gold Coast
Everyone wants luxury kitchens but drop the idea due to the high costs. Gold Coast Budget Renovations offer luxury kitchen designs at affordable prices. You can choose wooden, laminate, or acrylic finishing with bold colors to create stunning kitchens. We also provide custom kitchen designs to create modular kitchens to fit different sizes and storage spaces.
Best Kitchen Cabinet Making Experts Gold Coast
We have bountiful kitchen cabinet designs that can be suspended above the counter space, fixed to the corner, or place it under the sink. It can easily meet your storage needs. With the availability of different styles and materials, we help you choose the right one to fit your budget. This way we make sure that our customers are satisfied with the kitchen renovation ideas.
If you're looking for kitchen resurfacing, Gold Coast Budget Renovations transforms the look and style of your kitchen by making it look new. We give your existing kitchen a coat of paint, add additional lamination, or upgrade storage options to make your kitchen highly accessible.
Whether it is kitchen resurfacing or kitchen renovation, our team is up-to-date on kitchen renovation designs and technology. Discuss with our experts to include the perfect hue for your new kitchen.